Testimonials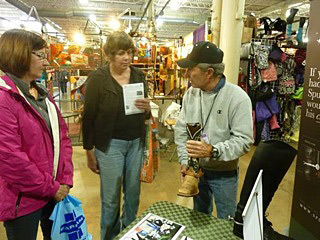 Legendary rider and trainer Bernie Traurig demonstrating how the Spursuader works! Equine Affaire Ohio, 2014

I wore out a set of traditional spurs and bought a new set that I thought were about the same . One of my horses became very nervous and jumpy under saddle . The more rides we took the worse it got . I am not the sharpest tack in the box , so it took several rides for me to connect the behavior to the new spurs. That is where you come in . I ordered a set of western Spursuaders and the change was immediate , and very dramatic . I did not realize I was spurring her for no reason , she is very very sensitive. You gave me my horse back !!! Thank You !
Ron Bowman, Arkansas

Just wanted to let you know that your Spursuaders are the greatest product I have ever ordered! My Sierra is thin skinned and on the sensitive side and I kept looking for something soft but that would get the job done. Since I started using your product we are at a whole new level with no resentment. Thank you so much!
A. Chesmore, Nevada

The first thing you notice about the Spursaders is, well, they're noticeable! Rather than the usual low profile spur neck they have a silver dollar sized disc on the back, designed to provide a larger, softer contact surface. The good news is that once they're on and you're on the horse they are significantly less noticeable. After the initial impression though, they do exactly what they say on the tin. I used them on a range of horses, from a sensitive, overreactive but resistant TB to a backward thinking behemoth inclined to ignore the aids on principle to a sensitive horse with a significant nap. I also gave them to students to test the promise that they are an useful "starter spur" for riders who are concerned about their own skill level or their horse's reactions to a stronger aid. The Spursaders did an excellent job all 'round, giving a good reaction without undue resistance, with almost no risk of catching or rubbing the horse. They are a relatively inexpensive, useful piece of kit and would be a good addition to anyone's tool box.
Rachel Morey
Product tester for Event Riders Assoc., Great Britian

I just purchased a pair of Spursuaders at the Equine Affarie in Massachusetts over the past weekend. Tried them right out on my horse that shuts down to conventional spurs. They worked like a charm!! Love this product, will tell everyone about them!!! Thank you!!
Ann Elizabeth Bowie

Linda I bought a pair of Western Spursuaders at the Mane Event in Chilliwack last year. I barrel race and love them.  These ones are for a friend so I can get mine back!!!
Allison Cameron

I bought a set of Spursuaders at the Equine Affair in Ohio recently. I've been really cautious about using spurs on my gelding, he's so overly sensitive, which I love, but every once in a while he's not as responsive to my lateral aids. So it has been a few months since I bought these spurs and I finally gathered the courage to use them the other day (VERY cautiously because I was afraid for the ride of my life if he noticed they were there!) and I LOVE them. He never over reacted to them. As a matter of fact, he reacted to my aids for travers and shoulder-in perfectly! They are just what I needed, a gentle persuasion! Thank you so much. 
Christina Fiebeck
CF Dressage, Florida




"I purchased your spurs at the Midwest Horse Fair! To keep it short but sweet....I LOVE THEM! I ride my Quarter Horse, Jack, both Western and Hunt Seat. Jack is an awesome show horse, however, he is a spooky soul. There have been times when he has spooked and my spur has accidentally gotten him in the side...totally my fault. A spooking horse with a large spur in his side always leads Jack to bucking. Now, with your spurs I don't even have to worry about it. The spur is just enough to give a little extra guidance but if I loose my balance or grab on in the wrong place..the spur is gentle enough not to cause a bucking spree. Thank you so much! Love your product!"
Kim Falk

I promised to report back to you and I have to say that I Love the Spursuaders. My mare can be a bit lazy but she is thin skinned and every other spur I tried left her with marks. I have been riding with the Spursuaders for 6 months now and NO Marks! Thanks again for a great product!
Julia Lim

"I tried all the spurs and my horse just gets mad at all the other ones! "
Jody Childs
Del Dios Peruvians Vista, California

"I love the Spursuader! My two sensitive mares are so responsive to them! The design of Spursuader is gentle but so effective in getting horses going happily forward."
Peter Gray
3 Time Olympian / Past Coach of the Canadian Eventing Team





"My Spursuader experience has been fantastic! My coach was a bit sceptical so I started off my lesson without them and, about halfway through, she asked me to use them. We strapped those babies on and couldn't believe the immediate results I got. He snorted and swished his tail a bit but it was more because he had to actually work and couldn't get away with only doing half of the job. He moved off of my leg and stepped up underneath himself the way he should without the scooting or bulging to avoid contact. My coach was thoroughly impressed and wants me to ride in them consistently now. Thank you a million times over for creating a product that helps us to actually ride without the extra drama. We all know there's already enough of that out in the world. "
Doreen Guthrie
Controller Racetrack RV Inc. / Airdrie, AB





"My horse's winter coat is very sensitive to any kind of touch – she even looses her hair on the flanks if you ride her without spurs. So I thought the Spursuaders might be a bit more "help" than riding without spurs and less damage on the hair. To be honest, I was surprised. After two weeks of using them every day, even the rather lazy the horse is responding more and more sensitively to them, obviously "thankful" for the softer touch. The start off from the walk or jog to the lope is softer and more fluent now, as the horse gets not a "kick" anymore but more of a convincing touch."
Doris Jessen

"I saw your product last year, and I knew it was a winner. Since then I have been using your spurs on sensitive horses, as well as encouraging many of my students to use them. I have found that Spursuaders work wonderfully for those students who are learning how to use spurs while also keeping them from over or accidental use which happens with traditional models. Additionally, my students and even my wife who rides are much more willing to try these since they are more gentle and less intimidating. This a wonderful product that I will continue to use and refer to others."
Troy van Gorder

"Spursuaders help with one of my top level horses. He needs a spur but responds negatively to conventional spurs. He moves forward off my leg without any tension when I use Spursuaders. I have adult amateurs who ride big horses and need that little bit extra, but are afraid they will hurt their horses sides with traditional spurs. They happily use Spursuaders. Spursuaders are useful and humane for any level of horse and rider."
Selena O'Hanlon
Member of the Silver Medal Event Team at the 2010 WEG's / Kingston, Ontario





"They are the best invention since the snaffle bit. I'm wearing them on all my horses and been sticking them on students during clinics quite often."
Stueart Pittman
Retired Racehorse Training Project/ Maryland





"My horse is an incredibly sensitive Oldenburg/TB cross, and I can hardly touch him with a whip without a violent buck, much less a pair of traditional spurs. I am happy to report I have had only positive reactions from him with your Spursuaders. Thank you for such a fine invention and product. They've really closed up a hole in training an overly reactive horse."
Karen Silvers
San Antonio, Texas





"I have found the Spursuader to be very useful with young and sensitive horses. I have been using them on the horses I have recently broken in and found they provide an additional response to my leg without the over reaction, getting them to go forward happily. I have also found with our competition horses with sensitive skin, even on the really hot days they do not rub their sides at all."
Paul Brent
Show jumper, Owns and operate Cavilli Park in Coldstream Victoria, Australia





"The Spursuader's EXCEEDED my expectations. Not only did my mare not object, but she responded the BEST SHE EVER HAS to my legs without getting mad. SUPER HAPPY... VERY SOLD... intend to tell everyone I can. LOVE IT! My trainer was impressed too!"
Ann Pruitt, FL

"Please accept my sincere gratitude to you for developing this new gentle spur.
Your willingness to 1) recognize the harsh nature of an Equine product then make the change and 2) stepping out with a new product takes courage and says worlds about your personal spirit. Although changing how many people still brutalize horses in the name of sport & performance has a long way to go this is a huge step in the right direction. Your awareness is appreciated by many."
Melinda Barrington
Equestrian Division, Cobalt Premier Properties, TN





"When Linda showed me her "Spursuader" spurs last summer my first thought was they would be just another spur. While in Florida training this winter past I was having an issue in dressage with Dez swishing his tale annoyingly each time I put left leg on while riding on the right rein. I decided to pull out these spurs and see if they would help. I remember Linda saying the spurs were fabulous for the sensitive horse and Dez was certainly acting sensitive. I was markedly surprised that he accepted them immediately and allowed me to put on as much leg as I needed. They really made a positive difference! "
Lori Leach
Owner Brae Fearann Farms, New Brunswick





"I did a test drive with my friends pair of Spursuaders and found that they were very effective without out being harmful! When using normal spurs I left nasty spur marks which obviously is not good for the horse! My friend and I have been sharing them since February so I thought I should buy some of my own! "
Emma Brocklehurst
Shropshire, UK




"I tried your Spursuaders on Venture as I needed something but traditional spurs were just making him cave in on the side and squirm away. With your Spursuaders I get the impulsion I need without the dramatics! Thanks for the great invention "
Margie Godson
Level III Coach, Owner Myrddin Riding Academy/ Georgetown, ON




"It's been fun watching my horse's reaction to the Spursuaders. Usually when I wear spurs and even lightly touch her with them, her ears go straight back and she swishes her tail. When I use the Spursuaders, she'll flick an ear but not fuss about it. She moves off my leg nicely now to the right, but now that we're not fighting I can see that she's stiff to the left and we need to work on it. So thanks for helping me discover that! :)"
Lauren Record
Charlottesville, VA





"We have been using them and I am very happy. We plan on using them on a regular basis with our horses."
Danny Foster
Past Member and Chef d'Equip of the Canadian Show Jumping Team, Level III Coach





"Since using the Spursuader on my sensitive horses, I have noticed a better 'reaction' and less 'over- reaction' to adding leg. They really helped train one mare to complete a leadchange without kicking out to the leg. I will definitely keep them in my arsenal for those tempermental horses."
Jackie Tattersall
A circuit Hunter rider and coach / Caledon, Ontario




"The Spursuader's have changed my life! My dad's horse Benny (an off the track TB) is going so well with them. He's never been in a frame. Getting him to come into my hand now has become so easy as he is listening to my leg with the Spursuader. I am a big fan!"
Daelin Verkindt
Terra Cotta, Ontario




"I bought a pair of Spursuaders for my thoroughbred gelding who had raced for 6 years. They worked incredible on him. I took him to the Lindsay fair, and we got a 1st in pleasure!! It was an amazing day. Tragically this past December that horse had to be put to sleep due to injury. I just wanted to thank you for the sale. Our last rides wouldn't have been as effective and rewarding if it hadn't been for this incredible tool. I now have a 3 y/o quarter horse filly. She will be the next to discover what spurs are, and I'm glad I can have a safe and comfortable pair, that she doesn't have to shy away from."
Rebecca Trudeau
Bowmanville, Ontario




"The spurs are a great concept. They're great for the "modern" warmblood. If your horse is a hot horse and you don't need the spur to increase the speed, these spurs are great to help a horse bend off your leg and get them to pay attention to you without making them too foward."
Heather Boyko
Milton, Ontario




"In the time I have been using my Spursuader spurs, my young horses are reacting better to my leg, making the time I spend on them more effective."
Waylon Roberts
Member of Canadian Pan Am and Young Rider Teams/ Port Perry




"I have tried the Spursuader on several horses and find them a very useful aid, especially on a horse that needs spurs but finds them offensive. You get the right reaction without complaints.
I also think for the rider that is unable to use their leg skillfully the Spursuader is great as it won't jab or irritate the horse unnecessarily. "
Garry Roque
Canadian Olympian




"I have tried many kinds of spurs on my mare, as she lets me know that she does not like me using them. I found a pair that I had the least amount of resistance from her, however they were not as effective as I would like them to be. I tried the Spursuader and I got an immediate forward response, without the resistance and resentment.
Great invention. Love the logo, as we all want our horses going willing from the art of gentle persuasion/spursuasion. "
Janet Bone
Richmond Hill




"I am very impressed with the Spursuader. I have tried them on several of my horses and had my students use them. The Spursuader is effective in encouraging the horse to go forward without tension or resistance. My horse went forward with a long swinging step without getting as tight and as quick as usual."
Stephanie St. Pierre
Owner / Trainer Foxcroft Equestrian Centre, Level 2 EC Coach, International Competitor




"As a nervous rider, I was reluctant to use spurs. My green horse listens respectfully to the Spursuader, and my hotter ex-race horse doesn't over-react. Spursuader has really upped my confidence all-round"
Monica Duncan
Mono




"I am really happy with my pair of Spursuaders, riding a young green horse they make my leg aid more effective without using a sharp spur. I also know other people who have had a lot of success using them on off track tb's. We have found that it just seems like a gentler way to re-enforce the leg and we can achieve the desired result with happier horses."
Kerry Buono
Nobleton




"The small spurs I had always used (and needed) for bending, were now producing a resistance and head tossing through most transitions. Riding with no spurs made cantering an Olympic sport. The Spursuader was the ideal happy medium. Riding 4 or 5 different horses daily, this is the first spur that I dont worry about removing or adding for each new horse. Regardless of training level or discipline, Ive yet to have any sort of negative reactions, and I feel confident leaving them on all day."
Nicole Kybartas
Owner MyEquineSales.com / Orangeville




"Our pony tends to get a little fast and nervous with traditional spurs. She also does not always want to bend. With the Spursuader spurs she stayed quiet and relaxed and bent properly around my daughter's leg."
Marie Lovesy
Guelph, Ontario




"Phillip is a 4 year old Thoroughbred who is easy going but can be lazy and quick in the same ride. I have tried spurs on him twice, and he has reacted quite negatively. The only bucks he's ever given me has been during the spur usage, and I use rubber ended spurs which should be lighter. Let me tell you that from the moment I sat on Phillip I loved these spurs. I was concerned that I would have to use my leg differently but thankfully I was totally wrong. Phillip is also learning how to move away from leg pressure and this spur greatly increased my ability to convey that message. Later on in the day, I gave the spurs to my student on her 12 year old paint who needs a spur but is sensitive. She can also be an aggressive rider, and sometimes this combination causes friction. She loved the spurs too! Her horse never pinned his ears, cleaned up his transitions, and reacted more positively overall. I will tell everyone I know about your spurs! Good job!"
Gloria Witterschein
West Side Stable / Toms River, NJ


"I absolutely love these spurs and haven't taken them off since I put them on my boots. I have a very sensitive mare and really appreciate the positive response I get from them. They give me a 'Persuasive Nudge' and not an 'Over-reactive Poke' that traditional spurs give"
Scott Meldrum
Holt, Ontario

"I have worn them on my red-hot little mare who kicks at my leg or scoots in regular dressage spurs (even little nubby ones). She likes the Spursuaders and they are what I wear on her now."
Emily Esterson
Albuquerque, NM

"Using these spurs alleviates the stress that can cause me to stiffen up from worrying if I am going to miscue and annoy my horse inadvertently (as happens with a stronger spur). I find that I feel more comfortable knowing that if I accidentally touch my horse when I don't mean to I am not going to cause any undue and unfair stress to him or me.
I like this spur because it is more forgiving as you work to improve your leg or teach your horse. I would rather have less spur that you can support with a crop than a sharper spur that asks a horse for something that you didn't mean to ask for."
Helen Hayward
Manitoba