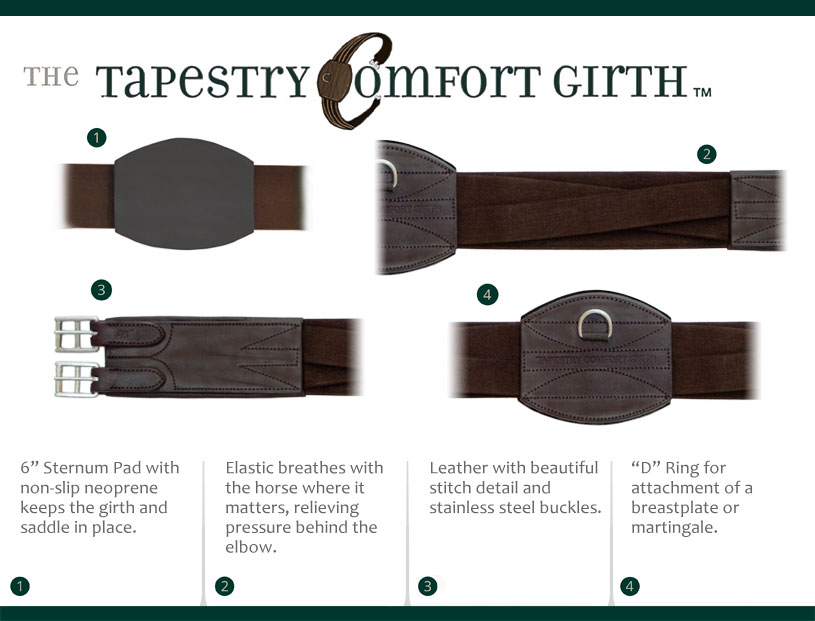 The NEW patented Tapestry Comfort Girth is the first girth of its kind to offer comfort, symmetry and expansion where it matters. Pressure points and stress are minimized, improving well being and performance in your horse. Girth pressure measurements in traditional girths are greatest behind the point of the elbow. The Tapestry Comfort Girth is designed to lessen these pressures.
Comfort Girth Video


The Tapestry Comfort Girth comes in brown easy care genuine leather from sizes 38" to 54" in the English style and sizes 30" and 32" in the Western style. What size should you order? Measure from end of buckle to end of buckle (A) and order one size smaller.

BUY the new patented Tapestry Comfort Girth only $149.00

Care and Handling of your Tapestry Comfort Girth.
Like any other piece of equipment if you look after it correctly it can last a long time. I suggest cleaning the leather with saddle soap and oil as needed. The elastic can be cleaned with a wet dandy brush and a non-chemical shampoo/soap and air dry. The neoprene is "delicate" and needs some TLC. Just wipe with a damp cloth and don't be rough. Although it is solidly adhered to the leather it won't take rough treatment and is not covered under any warranty. My Tapestry Comfort Girth has been in daily use since April 2014 and it still looks new!
"After using the new Tapestry Comfort girth for 2 weeks on my notoriously difficult mare I, not thinking put her usual girth on which is fleece with elastic on both sides. Well that was a bad idea. I mounted her only to be met with a miserable, ears pinned kicking out at me beast who wanted nothing to do with working. After a few minutes of misery, I was ready to put her away and call it a day. I figured well, why not try the new girth again. What's the worst that can happen! To my complete surprise she instantly became agreeable and was happy to work. Cantering around beautifully and jumping a 3 ft vertical with absolute pleasure. I absolutely didn't know what to think. I am sold !!! This mare can be very, very difficult at times and has been known to announce her own hiatus during the winter months. So far with this new girth and a few other changes she is much happier!"
Michaela
Testimonial from Vanessa Hayes
"During a follow up massage with one of my clients, I noted to the owner that the tension consistently found throughout the horse's shoulders as well as in his pectorals region and girth area, had improved significantly. He felt much more symmetrical from left to right and was content with allowing me to work in these areas. I was told the only change to his training and equipment was that he had been wearing The Tapestry Comfort Girth for about four months. I was instantly excited at the fact that this girth had made such a positive change in the horses body in such a short amount of time. I cannot wait to recommend this product to clients of mine who's horses suffer from the same issues of being a typical "girthy" horse.
Vanessa Hayes, Registered Equine Massage Therapist
www.handsonhorses.ca