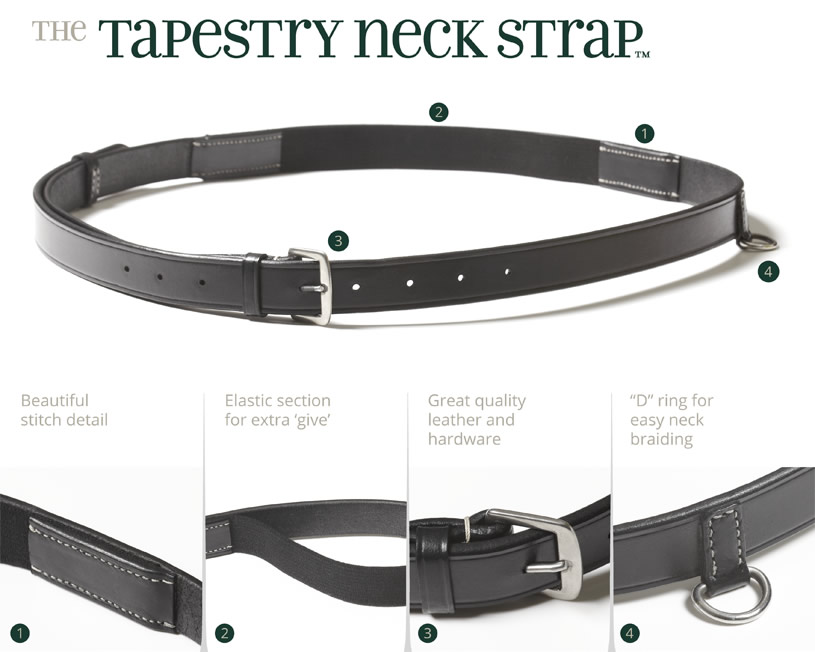 The Tapestry Neck Strap™
The NEW Tapestry Neck Strap is great for beginners, pony club riders, school horses, amateurs, exercise riders or anyone working with young horses -- it provides a great place to hold onto without catching your horse in the mouth. The Tapestry Neck Strap is made from high quality vegetable treated leather and features an elastic section for extra 'give', a 'D' ring for easy braiding into the mane and beautiful stitch details.
The Tapestry Neck Strap is available in Black or Brown genuine leather and comes in two sizes: Pony/Cob & Horse.
Review > Teresa Kackert 'Soft Touch' Horsemanship
I recently had the honor to receive and the pleasure to experience the Tapestry Neck Strap. I currently have a lesson program, horse training, sales and USPC barn with over 20 horses in full training; multiple breeds, multiple disciplines, various ages, riding levels, etc. Personally, I spend between 6 to 10 hours each day in the saddle; I may ride 8 to 12 horses per day, five and sometimes six days a week... I gave your product a workout!

First, I would like to say that the strap is a quality piece of tack, attractive, well made and very useful. Its natural color and finish went well with my existing tack and in some cases complimented the overall appearance. The leather seems to be of 'select' or 'premium' quality, to have been finished nicely, very smooth to the touch and supple in its use. Additionally, it is well stitched, has a nice buckle and plenty of holes for adjustment in fit.

I tried and used the strap in the following activities: field hunting, Pony Clubbing, Cross Country, trail riding and in our regular arena youth and adult lesson program and it proved completely versatile and held up wonderfully. I received strong interest from both my clients, students and their parents; all were intrigued, felt it looked very nice and were certain it could be very useful when the need arose.

Thanks again for this opportunity.

Best Regards, 'Soft Touch' Horsemanship
Teresa Kackert
Certified CHA Clinic Instructor
AQHA Professional Horseman Certified Trainer

Get the Tapestry Neck Strap